WHERE SCOUTING MEETS ANALYTICS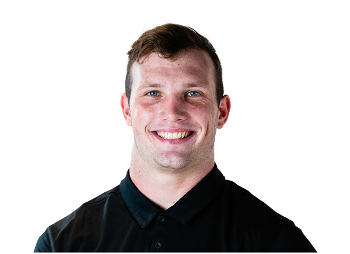 vs BYU (2020), vs UTSA (2021), vs Iowa (2021)
Bellinger has a solid frame for an NFL tight end. He does a great job of getting into his blocking fits and working to the 2nd level. He is an extremely effective pass blocker to mirror faster defenders and stand his ground against stronger defenders. He is clean in and out of his breaks with smooth hips and quick feet. Walls off defenders and brings down contested passes.
Bellinger has to work on his leg drive and pad level to be an effective run blocker at the NFL level. He is not explosive off the line of scrimmage and struggles to create seperation at the top of routes. Has a limited route tree. Inconsistent effort in the run game. He needs to work finding holes in the defense and sitting in them to help his quarterback
Bellinger has solid, muscular frame that will translate well to the NFL. He is a decent straight line athlete, but lacks the wiggle and explosion to create seperation. However, he has trustworthy hands and flashed a unique ability to be extremely effective has both as pass blocker and run blocker. The biggest concern for him is effort and motor consistency. He has the fundamentals to be an effective in line tight end at the next level, but needs to bring the grit and heart every play. He will find as way on to a roster on Day 3 with a team looking to upgrade their tight end room in regards to blocking.
Bellinger is a decent athlete. He has enough lateral agility and flexibility to get in and out of his cuts. He plays strong at the point of contact. He is not overly explosive off the line, when running routes. He has decent speed for his size and frame.
Bellinger was not utilized very much in the pass game with in the offense. His release is subpar. His route tree is limited and looks labored during double moves. He has decent speed, but never appears to create a ton of separation. He has solid and reliable hands. His big frame allows for a large catch radius. He needs to work on sitting in holes and finding windows for his quarterback.
He does a great job of getting a sold inside fit on defenders. He is an aggressive run blocker, who thrives down blocking or kicking out. He does a great job working to the second level and getting hands on the linebackers. He has good mirroting ability and holds own against stronger defenders. He needs to work on getting his feet underneath and driving.
He should flashes of pure aggression and grit, but needs to do it on every play. He has the correct catch point mentality. His effort and heart is shown when he his run blocking.
His instincts as a blocker are good, but need work as receiver. He needs to read coverages better to find more success as a pass catcher. He is extremely versatile as be played in line, off line, in the backfield, in the slot, etc.