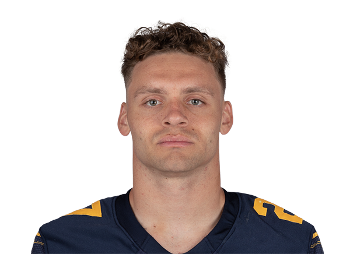 Injury History: Groin Injury: Required Surgery (2019)
Games Evaluated: 2018 Vs: UNC, USC, TCU 2019 Vs: Washington, Ole Miss
ATHLETICISM: 8.88

Q.A.B./C.O.D.: 9.10
Flexibility: 8.30
Deep Speed: 9.20
Explosion: 9.10
Coordination: 8.70

A former track athlete and it shows with his elite athleticism for the position. Elite speed, explosiveness, and change of direction skills. His athleticism shows up in his movement skills and ability to cover ground in deep zones such a little amount of time. His coordination and flexibility are highlighted in his ability to track the ball and contort his body to make a play on it. Had a fantastic PBU in the front corner of the endzone against UNC in 2018 for reference to this athleticism. Doesn't have the size to be a consistent box presence, but wasn't and shouldn't be primarily deployed there anyhow.

COVERAGE ABILITY: 7.70

Man Press: 6.00
Man Off: 7.50
Zone: 8.50
Hand Fighting: 6.90
Hips/Turn Ability: 9.60

Davis was primarily lined up as a deep safety at Cal, he also had significant reps at slot corner and in the box. He is at his best in a deep zone, as he possesses the athleticism to cover more ground than an average safety. Seemed to rely on his athleticism to make a play on the ball rather than read the offense's route combinations and flow to where the play takes him which sometimes led him to be a tick late getting to where he needed to be. His very good ability in off man in the slot allows for more versatility and freedom disguise coverages for the team. His elite COD skills show up in his ability to flip his hips and stay in phase with a receiver and is evident in his ability to carry pass-catchers up the seam out of the slot.

PLAYMAKING: 8.03

Closing Quickness: 9.10
Ball Skills: 8.00
Route/Play Diagnosis: 7.00

Ashtyn possesses exceptional closing speed in both zone coverage and in the running game. Once the ball is in the air, if he is in the area code he has a chance to impact the play. Outstanding ball tracking ability and timing helps him be able to get in position to make plays in the deep portion of the field. Route processing is good, not great, he seems to try and read the QB more than the routes and seems to start making his move once the ball has been thrown as opposed to once the play develops.

RUN SUPPORT: 6.80

Quickness Upfield: 8.10
Fight Through Blocks: 6.10
Tackling: 6.20

Considering this man has been consistently deployed 20 yards deep, the fact that he can get to a gap responsibility before an RB passes the LOS is remarkable. Getting in position is one thing, being effective while you're there is another. Davis gets consistently washed out of the play by blockers and is an inconsistent tackler. Hitting power is almost non-existent, as ball carriers consistently got yards after contact if he was the first and only tackler to them.

COMPETITIVENESS: 7.97

Toughness: 8.20
Production: 7.80
Consistency/Motor: 7.90

Was a walk-on at Cal after originally being a scholarship track athlete. Earned his way on the team and earned special teams MVP twice for Cal in his career there. Only missed the last two games in his career and played in every other one he could have. Had great tackle and ball production, with 19 passes defensed, 7 interceptions and 3 forced fumbles in his career.

INTELLIGENCE: 7.03

Instincts: 6.70
Learn/Retain: 6.70
Teamwork: 7.70

Is more of a "see ball get ball" player, and has to see it rather than feel it. His range and presence allows his teammates more margin for error, can instantly make your corners feel more secure.

STRENGTHS

His biggest strength is his top tier speed and exceptional all-around athleticism for the position. Elite open field movement speed to gain depth and get in position to take away a target in either a deep zone or in the slot. Elite hips and fluid change of direction skills are key against mirroring a man in the slot when playing off man. Outstanding flexibility and coordination helps him make plays on the ball and affect the receiver at the catch point.

WEAKNESSES

Davis' biggest turn off is his slow processing skills for a safety. Despite his movement skills, he can be slightly late to the play at times. He lacks the size and run game effectiveness to be used as a consistent box presence, and is inconsistent in deciding whether to throw his body at the legs of a runner or attempting a proper form tackle.

BIG PICTURE

Davis can be a day one starter as a single high safety in the NFL. He reminds me a lot of Jessie Bates III for Cincinnati, who also had his struggles as a tackler early on in his NFL career and I could see them being rivals as I think an ideal team fit is with the Cleveland Browns in the 2nd round. He is faster and more athletic than Bates though, however, is currently less impactful in the run game. I see him being an early day two selection in the 2020 NFL Draft.