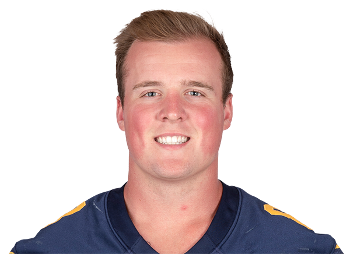 Games Evaluated: 2019 VS: Washington, Oregon 2018 Vs: Washington State
Report By: Roy Countryman
ATHLETICISM: 5.70

Q.A.B. / C.O.D.: 5.60
Flexibility: 5.50
Explosiveness: 5.00
Playing Speed: 5.60
Coordination: 6.30
Position Versatility: 6.20

Big and sturdy build with long arms to be able to corral ball carriers. He may have tested well in the 40yd dash, but his play speed is only average. Will have trouble getting to the far hashes before the better athletes in the NFL run by him. Has strong hands and can steer and clear when engaged due to his strength. Has only average hip fluidity and quickness which shows itself when matched up with athletic players in space. Simply doesn't have any explosiveness to his skill set outside of contact strength at the POA. Plays under control and measured in his plan of attack. Majority of reps came as an interior LB but when he was unleashed as an edge LB who flashed edge setting ability due to build.

PASS RUSH ABILITY: 6.60

Initial Quickness: 6.60
Rush with Leverage: 6.60
Pass Rush Moves: 7.00
Pressure Consistency: 6.20

When faced up with DL he shows good quickness to cross their face and get them back on their heels. Has strong hands and knows how to lockout and shed blockers. Utilizes good timing on A-gap blitzes and due to his size and build he is a tough assignment for RBs to try and pick up. On the few occasions where he lined up as a 3-4 OLB, he showed a variety of pass-rushing moves, good bend, and a surprising burst to finish off plays.

COVERAGE: 6.13

Pass Drops: 6.20
Coverage Awareness: 6.60
M/M Coverage: 5.50
Zone Coverage: 6.20

Very measured and deliberate in his zone drops. Makes up for a lack of pure athleticism and movement skills with his intelligence and ability to pick up on route concepts. Can be a solid zone defender, but if tasked with running step for step with RBs out of the backfield or seam-stretching TEs he will not be able to stick with them. Also struggles to get his head around in pass coverage, which leads to a tendency of getting called for pass interference because he simply runs into his assignment.

AGAINST THE RUN: 6.20

Play with Leverage: 6.60
Stack and Shed: 6.50
Run at Him: 6.60
Runs Away: 5.80
Tackling/Hitting: 5.50

Stays patient and works his way laterally across the formation until he finds the rushing lane to fill. Has the strength, hand usage, and block shedding ability to take on blocks and then take down the runner. Has put up outstanding tackling statistics, but he is more of a mop-up man than a solo tackle monster. His tackling mechanics are inconsistent and his pursuit angles at times leave a lot to be desired. Will consistently lunge for ball carrier's lower third instead of keeping his head up and squaring up the runner. When he does use sound tackling fundamentals he can lay some bone-jarring blows, they are just few and far in between.

COMPETITIVENESS: 7.50

Toughness: 7.50
Production: 7.50
Consistency/Motor: 7.50

Highly motivated and determined individual. Does not let his athletic shortcomings hinder him. Works his tail off during the week in preparation with film study and practice habits that make him a better player on game day. ISs a rugged, pursuit LB who isn't afraid to do the dirty work of taking on blocks and helping his teammates drag down ball carriers. Last two seasons at Cal culminated with more than 150 total tackles each and 8 or more TFL.

INTELLIGENCE: 7.40

Instincts: 7.50
Learn/Retain: 7.20
Concentration: 7.50

Has an innate feel for where the play is flowing to due to his work in the film room. Always seems to be around the ball, which can lead to him being the benefactor of some quality play around him. In zone coverage, he uses his instincts and preparation to be able to put himself in a position to succeed. Can see rushing lanes develop and be able to fill and shut down big gains. As a pass rusher, he times up A-gap blitzes with a high rate of success and can set up OTs as a standup pass rusher. Voted team captain in 2019. Was a revered presence in the Cal football program due to his determination, preparation, and motivating personality that to wants to raise the expectations of those around him. By all accounts, he is a low maintenance player off the field. His football intelligence is tremendous, and he adds to it every week with more and more film work and working with his coaches.

STRENGTHS

His build and play strength harken back to yesteryear when ILBs primary duties would be to attack downhill and take on blocks. Has good strength and heavy hands to take on blocks and shed them to make plays on the ball carrier. Is a smart and motivated player that realizes his shortcomings athletically, and masks them with preparation and instincts. A very effective pass rusher due to his ability to time up plays, and on the few occasions he was unleashed as a stand-up pass rusher from a 3-4 OLB position he was a pest for OL to contain. Is a leader and alpha male on the field that demands respect from his teammates. He is an astute zone defender and will put himself in a position to make a play on the ball or the pass catcher.

WEAKNESSES

Big, burly build is almost too top-heavy for an ILB. He lacks the speed, quickness, and fluidity to be a sideline-to-sideline pursuit LB at the next level. His tackling mechanics and pursuit angles need a vast amount of improvement because they are inconsistent at best at this point. At times lacks hustle on backside pursuit which will lead to being called out when he is so vocal about being accountable to teammates.

BIG PICTURE

Weaver was a star defender at Cal, winning numerous awards as defender of the year, as well as being in the conversation for awards of off the field work as well. For as great of a performer as he was at Cal, he will need to find the right fit at the next level to become anything more than a core special teams player. I actually think his best position at the next level would be as a 3-4 OLB/hybrid DE role, sort of in the mold of Rob Ninkovich when he was a key contributor for the Patriots for a number of years. In that role, it would limit his athletic shortcomings and utilize his strengths appropriately. I see him coming off the board on Day 3, and at the worst, he should be a key contributor on special teams for a number of years.