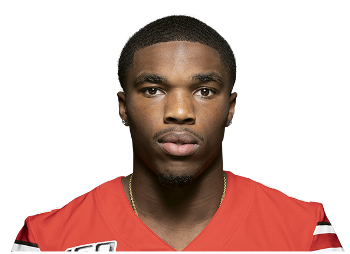 Games Evaluated: 2019 Vs: Indiana, Michigan State, Clemson (CFP) 2018 Vs:Michigan
ATHLETICISM: 8.40

Q.A.B./C.O.D.: 8.50
Flexibility: 8.25
Deep Speed: 8.00
Explosion: 8.75
Coordination: 8.50

His quickness in short space allows him to close space very quickly. He can stop on a dime and change his direction with ease. His 4.4 speed shows when he tags alongside player's hips on deep routes. He is very explosive when reacting to plays developing in front of him, he can end screen plays to his side of the field fast. His footwork is outstanding as he can keep his body mirrored in front of the receiver which results in them using way too much energy at the beginning of their routes to get by him. His overall game speed allows him to compete in every play.

COVERAGE ABILITY: 8.30

Man Press: 8.75
Man Off: 8.00
Zone: 7.75
Hand Fighting: 8.75
Hips/Turn Ability: 8.25

He does a great job at using his arm length to his advantage, he will jam his hands up into the receiver's shoulder and keeps it there as long as he can. He has very fluid hips and flips them with ease to stay attached to the player's hips. His mirror ability is one of the best I have seen as he keeps receiver's guessing on how they should break out of their routes. He is solid in off coverage, but he can be suspect to allowing easy inside releases when he isn't playing press. This is the only time I see players getting easy receptions against him. Great fighter, goes until the whistle blows to get the ball.

PLAYMAKING: 8.08

Closing Quickness: 8.75
Ball Skills: 7.50
Route/Play Diagnosis: 8.00

His closing quickness is very impressive as his makeup ability allows him to clamp down on space in a snap. He does a solid job of getting his hands to the ball and fighting until the end of the play to dislodge any caught balls by the receiver. He relies on his instincts to read routes and plays, he reacts quickly and isn't fooled often. As I have said, his mirror ability is one of the best.

RUN SUPPORT: 8.00

Quickness Upfield: 8.75
Fight Through Blocks: 7.75
Tackling: 7.50

He can fly up the field in a second and end plays that come his way. His athleticism allows him to breeze by blockers to make the tackle. He isn't afraid to take on a block. He will use his length to his advantage to stack and shed lineman. He loves to lay a hit on a runner and understands when he needs to go for the legs. His technique does need some work, but he is effective enough to help.

COMPETITIVENESS: 8.17

Toughness: 8.00
Production: 8.00
Consistency/Motor: 8.50

35 games in his career totaling: 83 tackles, 64 solo tackles, 1 tackle for loss, 0 sacks, 3 interceptions, 18 pass deflections, 2 fumble recoveries, 1 forced fumble. Very tough player who isn't afraid to back down from a challenge. He will line up against the best receiver and will take on a lineman to get through blocks for a tackle.

INTELLIGENCE: 8.25

Instincts: 8.25
Learn/Retain: 7.75
Teamwork: 8.75

STRENGTHS

He does a great job at utilizing his size and athleticism to his advantage. He understands that he has the ability to press receivers and can flip his hips to run side-by-side with them on routes. The most impressive thing that he does is his mirror ability. He can mimic player's routes which makes them overthink how they want to break their routes. His long arms allow him to jam them at the beginning of routes and he can get his hands up in catches to cause a drop. He is also physical, will put up a fight, and isn't afraid to come up to hit somebody. He offers plenty of experience, he will line up against #1 receivers, play inside the slot, and can play man or zone coverage. He should fit any scheme.

WEAKNESSES

He is susceptible to allowing easy inside releases, especially if he is playing off or zone coverage. Only efficient route runners can get away with this against him, but he will see more of them at the next level. He is a feisty player, while it isn't a major weakness, there is a potential that he will get holding or pass interference calls if he doesn't clean that part of his game up. His tackling form could use some refinement. He will either attempt to tackle with his shoulder only or will go for the legs when it is a bigger player with the ball in his hands. He can be more effective if he tries to wrap up and drive through the runner more often. He just has some small things within his game to work on.

BIG PICTURE

Okudah has the size and athleticism to succeed at the next level. He is capable of being a team's top cornerback on their roster and would provide an immediate boost as a rookie. Depending on the situation, he should be their CB1 if he gets selected one of the current teams inside the Top 10 of the NFL Draft. With that being said, in Year 1, he should make an impact on a defensive unit. He isn't scheme dependent, he can play in a man or zone scheme, and has the ability to come in to compete with the top receivers in the league. He may go through some growing pains as a rookie and could struggle with the elite route runners. But, as the season goes along, he should get better with his technique and allow his athletic ability to keep up with the best. He will enter the NFL with a very high floor as a player and should at least be a solid contributor during his first season. By Year 3, if he continues to grow, he has the capability of growing into an All-Pro player at the next level. He should be the CB1 on the roster if he isn't in Year 1. Barring an injury or a drop off in his play, Okudah will be in the conversation of being one of the best cornerbacks in the league. Whatever team that selects him will be getting a player that should last 10+ years in the league and could develop into a shutdown corner within their defensive unit.