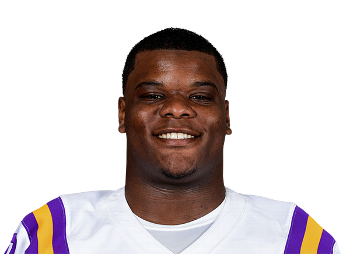 Injury History: Shoulder Injury (High School: 2017), Shoulder Surgery (2018)
Off-Field Issues: Unspecified Violation of Team Rules (Suspended 6 Games: 2019), Multiple Failed Drug Tests at LSU
Games Evaluated: 2019 Vs: Texas, vs Auburn, vs Georgia
ATHLETICISM: 7.30

Q.A.B.: 7.70
Flexibility: 7.50
C.O.D.: 7.00
Explosion: 6.80
Versatility: 7.50

Charles is a very fluid mover and a great athlete. Most of his upside and draft stock will come from his mobility which is admittedly pretty impressive. He's able to fire off of the ball into his pass set and can even be found over-setting. He isn't too explosive but he's plenty fluid enough to get where he needs. Impressive bend and flexibility for his weight but is required for his height. Spent time at RT and RG but mostly stayed at LT, foot speed indicates he could switch positions if needed.

RUN BLOCKING: 6.98

In-Line: 5.75
Movement off L.O.S.: 8.00
Reach Block: 7.40
Pull & Block Outside: 8.00
Adjust In Space: 6.70
Use of Hands: 6.00

Mixed bag of a run blocker. Isn't the type of lineman to create much movement directly off of the line, even with his exciting athletic toolbag. Simply lacks functional strength almost entirely from technique. Hand usage is rough and extremely inconsistent, from placement and punch, he doesn't set back lineman and gets them inside leverage. He is far more capable of making dynamic blocks at the 2nd level and from reaching. Hasn't demonstrated a consistent ability too do so, but with flashes and skill set this should be where he excels. Doesn't quite adjust in space as well as I'd like to see but again he at least flashes here. He can get where he needs to but is liable to over or underrun his spot, but has shown recovery ability.

PASS BLOCKING: 6.28

Quick Set: 7.00
Protect Corner: 6.70
Footwork / Redirect & Slide: 6.00
Anchor / Reset Ability: 6.20
Handle Games/Stunts: 6.00
Hands / Punch: 5.80


All upside in pass protection. Exciting athletic tools did not do him much for production. His quick set in pass protection is certainly quick, but inconsistent and technically lacking. This lets defenders set him up rather well, and while he showed he does have solid reactive recovery ability, you wish he had to do that less and just make the right block first. The result is a compromised corner a bit too often, which in return allowed the inside to be open as well. This showed up in his anchor as well, quicker feet than stronger legs let him get pushed inside against stronger competition. Hand usage once again did not set him up to succeed, failing to set back a defender with his punch, and allowing the defender to get inside leverage as he often struck wide.

COMPETITIVENESS: 5.67

Toughness: 6.00
Consistency / Motor: 5.50
Production: 5.50

More issues begin to show up here. Production was hit from an injury his sophomore year, and a lengthy suspension in his final year. For his technical deficiencies, he really could have used at least that suspension time to continue to hone in on his weaknesses, instead he's missed a decent amount of time for a three-year player.

Intelligence: 6.23

Instincts: 7.00
Learn/Retain: 6.50
Teamwork: 5.20

His instincts seemed rather in tune while it's hard to get a feel for his learning/retain. For a great group it upfront they still seemed rather behind in technique and I have to believe Joe Burrow and those receivers bailed them out a good bit. His teamwork grade takes a hit for his suspensions and failed drug tests.

STRENGTHS

Charles has an exciting bag of athletic tools with okay size. Being a part of a historic LSU team certainly makes him more appealing, as the starting LT is a rather important position for a team with such accomplishments. His upside alludes to a really good movement tackle with the ability to get out in space and make dynamic blocks, who can hopefully match-and-mirror speed and finesse rushers.

WEAKNESSES

Plenty to overcome to get that upside out of him. Adding functional strength is going to be huge for his development and a lot of that will come from his core and hand usage. A complete technical overhaul is likely. Footwork should come easier for him considering how fluid he is, and may be able to get away with less technique here early, but will really have to hone in eventually here. Character concerns are also present and will require a locker room that can keep him disciplined.

BIG PICTURE

A high-upside, low floor player. The best OL coaches should be able to mold him into a solid movement tackle in a ZBS scheme, but a true man/gap scheme probably won't be a good fit. Needs to add strength and technique everywhere, but has really good athletic tools to help get him there. Played at a high-level with an NFL QB so the talent gap shouldn't be as harsh, but as players get stronger his need to add strength increases. Character concerns and a scheme dependant means his stock will likely fall as some teams take him off the board for one or both of those reasons. Unlikely a year-one starter but possibly a year-two swing tackle and potential year-three starter.