Written by Zach Gartin
Twitter: @The_Sideline10
If you asked a draft analyst who their top five wide receivers were going into the 2020 college season, almost all of them would include LSU's Ja'Marr Chase and Alabama's DeVonta Smith on that list. And for good reason, as both have the tools to be very dynamic NFL receivers and were their teams leading receivers in the 2019-20 season. But these next two pieces are not about them. These articles are about their counterparts, Jaylen Waddle and Terrace Marshall Jr.
In the first article of this two-part series, we are going to be discussing Jaylen Waddle from Alabama. His numbers don't jump out at you, as he had 33 receptions, 560 yards, and 6 touchdowns in his sophomore year. He also averaged 24.4 yards per punt return on 20 opportunities and had two return touchdowns (one kick, one punt). His numbers took a dip from 2018 to 2019, but it was not a function of his play. He was only on the field for 188 pass plays in 2019 per PFF. As he grows into his number two role with Alabama, he will see more targets and possibly even more production.
Now let's talk traits. First things first, this man is a speed merchant. In that talented Alabama wide receiver room, Waddle was almost as fast as Henry Ruggs (who ran a 4.27 at the NFL Combine) and I believe Waddle shows better short-area burst and change of direction then Ruggs showed on film. This speed and change of direction make Waddle dynamic after the catch. Against Texas A&M here, he erases angles and changes directions so easily and smoothly that he looks like he is back in high school. His fluid hips, quick feet, and subtle understandings of body positioning and space are all on display in this clip.
Waddle speed makes him more than just a nightmare for opposing defenses with the ball in his hands. It allows him to be a threat while running routes as well. When you can scare a player with your speed, it opens up numerous different options for a player like Waddle. The hook route is one of those. Waddle can threaten almost any DB with his speed, and when the DBs hips get turned, Waddle can stop quickly enough to create separation. And we all know what happens once Waddle gets the ball in space.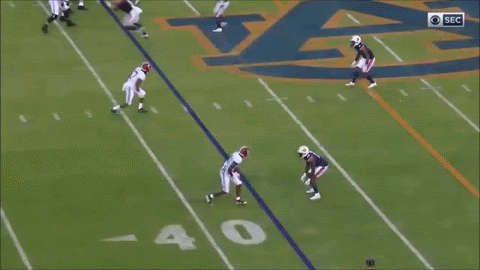 One of the questions about Waddle's game is his ability to work through contact and make tough catches. His limited amount of playing time outside and lack of prototypical size will bring forward those questions of play strength. Waddle actually does a good job in the route below of handling the physicality of the DB up until the catch point, where he drops an easy first down. Drops were not super prevalent throughout his film, but it is still something to keep in mind going into the 2020 season as he has had a limited number of reps throughout his college career.
In the route running department, Waddle isn't as nuanced as his counterparts DeVonta Smith or Jerry Jeudy. However, he has still shown the signs of being able to run the route tree and move DB's off of their spot. Waddle mostly ran routes out of the slot in 2019, and below we see him do a good job moving the DB before breaking outside and getting open quickly. You can see Waddle stem outside originally before doing a good job of opening his hips and giving a head fake to force the DB to open his hips up and go inside. While Waddle still has to show he can successfully run a full route tree, the traits and skills he needs to do so are there.
Waddle is at his best in the slot because it gives him space to use body manipulation and hands to create separation. What I love about the route below is that Waddle first re-establishes the line of scrimmage. The DB is playing a technique called slide technique. The DB sits at about 6 yards and attempts to create contact with the WR to disrupt the timing of the route. Waddle does a great job reestablishing the line of scrimmage and then treats it like a normal press rep. Now, to my favorite part of the rep. Waddle manipulates the DB's eyes and once the DB looks back at the QB, Waddle knows he can break up the field into open space. Space and eye manipulation is one of the harder skills for a wide receiver to learn at the next level, and Waddle shows signs of understanding that.
During the out route below, Waddle gets the DB off of his spot by first pushing his route inside to get the DBs hips open, and then immediately changing directions and getting to the DB's outside hip to put the DB into a trailing position. Once Waddle gets the DB in a bad position, it's over.
Waddle also brings a lot of utility to any team he's a part of, mainly from his special team ability. His speed, balance, and vision with the ball in his hands allow for him to make big plays in the punt and kick return game. When all you have to do is make one guy miss and turn on the burners, a player like Waddle thrives.
He's dangerous anywhere on the field, anytime the ball touches his hands. Even in the NFL, people are going to be kicking away from Jaylen Waddle.
When it comes to Jaylen Waddle, he has all the athletic tools needed to be a quality NFL receiver. The requisite speed is there for a guy of his size. He can jump, he can make people miss, and he has shown signs of being able to play through contact. The big thing Waddle needs to take the next step in his game is simply more playing time. Per PFF, he was on the field for 221 total offensive snaps. Compare that to guys like JaMarr Chase and DeVonta Smith, who each had over 500 snaps on offense total, you realize the uptick in snaps and production that is possible for a guy as talented as Waddle. With more playing time, comes more understanding of the little things of the wide receiver that Waddle still needs to refine.
When you first watch Waddle, the player that immediately pops into mind as his ceiling is Tyreek Hill. Waddle's speed, elusiveness, and ability to bust the game wide-open anytime he touches the ball are very reminiscent of Hill's game. Waddle isn't to the level of a Top-10 NFL wide receiver (which Hill is), he still needs to work on his speed out of in-breaking cuts, jump-ball ability, and his overall physicality, but Waddle has the potential to be the same type of field stretcher and game-changer that Hill is. Waddle is one of my favorite wide receivers in this class because of his high floor and even higher ceiling. When someone like Waddle can be a factor on special teams and during offensive possessions, his floor only rises. Watch out for a big 2020 campaign from Waddle that could propel him into the middle of the first round of the 2021 draft.