Has an excellent chance to put himslef in the top of the 2020 draft with a qulaity season. Needs to develop his effort throughout a play and further his ability in pass rush sets. He is advanced in pass rush sets and can immeidately make blockers uncomfortable. His speed and athletcism will make him a valuable weapon for any defensive coordinator at the next level. Has an excelelnt chance to develop further throughout the 2019 season and claim the number one overall pick in this upcoming draft.
Joe Burrow was easily the most pleasant surprise of the 2019 college football season. After sitting on the bench in a crowded quarterback room at Ohio State, Burrow decided to move on and pursue a program where he could start. He transferred to LSU in 2018 and immediately took over as the starter for the Tigers. Burrow had a decent but not outstanding first season at LSU, completing 57.8% of his passes for 2,894 yards, 16 touchdowns, and five interceptions. He also rushed for 399 yards and seven touchdowns. Coming into his final season as a Tiger, Burrow was thought by most to be a mid-late round draft pick at best. However, as we all know, he proved us all wrong and set the college football world on fire. Burrow finished his college campaign with one of the best seasons by a college quarterback as he completed 76.3 % of his passes for 5,671 yards, 60 touchdowns, and only six interceptions while also rushing for 368 yards and five touchdowns. These numbers helped Burrow run away with the Heisman trophy. He then went on to lead the Tigers to an undefeated season and a National Championship victory over Clemson. Coming into the draft, Burrow is without a doubt the best quarterback in this class and no lower than a top three prospect overall. He brings all the intangibles that you could want in a quarterback along with a great amount of skill and a true desire to win games. I will be very surprised if Burrow is still sitting there after the Bengals make the first overall selection in the draft. NFL Comparion: Tony Romo; Team Fits: Cincinnati Bengals, Miami Dolphins, Los Angeles Chargers; Draft Projection: Top 3 Pick
Simmons has the athletic profile that will allow him to play at the next level but the biggest question is how teams will use him? He has the ability to be a playmaker and can be used all over a defense. Teams could want to add some bulk to his frame while keeping his speed to stay at the linebacker position and some could want to line him up as a strong safety that can play in the box throughout the game. I think his best fit would be to be used as a defensive weapon and let him flourish. He can be lined up in multiple positions and that can give offensive coordinators a headache to deal with. At worst, he is a linebacker that can excel due to his sideline-to-sideline speed and coverage ability that allows him to be on the field at all times. But as he showed against Ohio St., he can line up as a deep safety and use his quickness in open space to close in on an interception. He will be an impact player in Year 1 if defensive coordinators don't want to just stick him in the box and let him play all over. He has All-Pro potential by Year 3.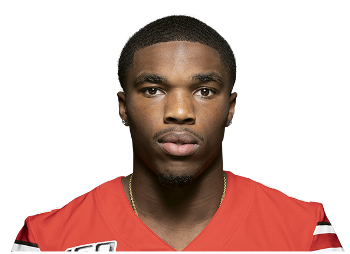 Okudah has the upside to be a lockdown island corner at the next level. He features a uniques belnd of size, speed, versatility, fluidity and physicality. He displays an elite man coverage skill set with the talent to mirror opposing receivers and bully them at the catch point. He is a willing tackler who will play through contact with the ability to develop into an elite playmaker with NFL coaching. He has the physicality, athletcism and ball skills to develop into a premeier cover corner who can help in run support on the perimeter.
Derrick Brown has been a hyped DL recruit from day one he stepped onto the Auburn campus, and he did not disappoint, playing immediately as a freshman and never coming off the field since. He has a rare skill set for an IDL, and will be come off the board quick in the 2020 NFL Draft. His skill set and off the field presence reminds me of Cameron Heyward, and I see him easily getting selected within the first 15 picks in the first round.
Jerry Jeudy is an electric and versatile receiver with the talent to play from anywhere on the field. He can be deployed in the slot utilizing his quickness, size and speed as a mismatch or on the outside to get the better of defensive backs with his explosive get off, speed and polished route running. Jeudy is an elite route runner with the ability to run a full route tree at the next level. He is quick off the ball and will consistently beat press at the line. He will excel in any scheme and be an immediate playamker for any team that drafts him.
CeeDee Lamb is a player that has burst onto the scene in the past two seasons and has quickly risen up draft boards. Lamb came into Oklahoma as a four-star recruit and saw immediate playing time as a freshman. He played in all 14 games in his first season as a Sooner and finished with 46 receptions for 807 yards and seven touchdowns while also throwing one touchdown pass. His play earned him recoginition on the ESPN Freshman All-American Team. As a sophomore, Lamb found a bigger role in the Sooners' offense, playing in all 14 games and starting in 13. He created a dynamic duo at wide receiver with Marquise Brown. finishing with 65 receptions for 1,158 yards and 11 touchdowns. He also served as their primary punt returner, returning 17 punts for 218 yards. His sophomore year numbers earned him second team All-Big 12 recognition by the AP. In his junior season, Lamb shined as the number one target for the Sooners, finishing with 62 receptions for 1,327 yards and 14 touchdowns. He also rushed for 20 yards and a touchdown, and returned 24 punts for 179 yards. Lamb was named a First Team All-American by basically every publication and was also a finalist for the Biletnikoff Award. As far as his pro career is concerned, Lamb is a player that I believe can come in and be a true WR1 almost immediately and will definitely be a WR2, depending on the needs of the team who drafts him. He has the skill set needed to be a Pro Bowl level wide receiver in this league for many years to come. Round Projection: Top 15 Pick; Team Fit: New York Jets, Indianapolis Colts, Arizona Cardinals; NFL Comparison: DeAndre Hopkins
Injury history aside, Tua is a pro-ready prospect that definitely fits the mold of franchise QB. Talent wise, I see his ceiling as being a bit low due to his average arm strength, and he will need to improve his ability to throw from uncomfortable situations. But Tua's durability issues are a massive red flag. He's had far too many lower-body injuries and is coming off his most severe one. Even if these injuries happened as freak accidents, he's extremely susceptible to future injury. His talent will make him a top 5 pick, but I won't be surprised if he plays a full 16-game season just a couple times in his career. Prediction: Top 5. Team Fits: Dolphins, Panthers, Lions.
Kinlaw is a menace to any OL that has the task of trying to block him one on one due to his physical traits and drive. Seems to have taken that next step mentally as a senior due to maturing as a man off the field, and the sky is the limit for this young man. He should be one of the first DL off the board in this draft, and should easily be off the board in the top 15 selections. Teams such as the Panthers, Saints, Falcons, Colts, Dolphins, Jaguars, and Cardinals should be evaluatiing him throughly as he could be a key building block to their futures. His playing style reminds me of Richard Seymour.
A wide bodied, athletic marvel who played at a storied program known for producing NFL caliber starters along the OL. He played RT during his time at Iowa, and has the atheticism, lenghth, playing demeanor, and strength to be a solid starter at the next level, but I question that his best positional fit may be slid inside at OG where his lack of technical refinement and foot quickness would be masked by having help outside. Also if he is deployed inside his ability to be a devastating short-trap puller and maul his assignments in the running game would give him the chance to have an all-pro upside. Due to his freak athleticism and experience in a pro style environment he will be a highly soughout commodity on draft day and should come off the board within the first 25 picks in the first round. Teams such as the Browns, Jets, Ravens, Jaguars, Giants, Dolphins, Cardinals, Eagles, and Vikings should all show interest in him in the lead up to the draft. His playing style reminds me of Mike Iupati.
A mammoth OT, that played on the right side at Alabama, but has the athleticism, foot quickness, and nasty disposition to be a dominant force on the left side in the future. He is able to mirror pass rushers with ease due his athleticism and balanace, and as a run blocker he can simply overwhelm smaller defenders matched up against him. He wil not have to wait long on draft day and should come off the board within the first 15 picks. Teams such as the Lions, Giants, Dolphins, Chargers, Cardinals, Jets, and Browns should all show interest in his services. His playing style reminds me of Cody Ford.
The term "freak athlete" is thrown around somewhat loosely these days, but if anyone deserves that title it's Mekhi Becton. His combination of size, strength, and body control is unreal. While Becton probably fits best in a man-blocking scheme, his traits make him versatile enough to play on any offense. I see Becton as having one of the highest ceilings of any prospect in this draft. Prediction: Top 10. Team Fits: New York Giants, Cleveland Browns, New York Jets.
What stands out the most when I watch Thomas play is his power, strength, and aggression. He is a good athlete and defenders will pay the price if they get in his way. Thomas should look to improve more on not solely relying on his aggressive style of play to win battles as defenders will find ways to outsmart him. Overall Thomas no doubt has the makings to be a starter at the next level. Projection: Round 1. Team Fits: New York Giants, New York Jets, Cleveland Browns.
He is small receiver with a thin frame who won't be able to add a ton more muscle to his build. His athleticism and physical toughness give him an edge against defenders. Ruggs quickness and deep speed will be coveted at the next level, but he needs to use his final year at Alabama to improve his route running ability and release off the line. With a cleaner route tree, he will be a high comodity come draft weekend. Ruggs is in position to be the next great Alabama receiver.
One of the more polarizing players in the draft, Delpit seems to be a high end free safety that could be a liability due to tackling concerns. He does everything well on the back end and contributes as a run defender and blitzer too, but if he can't fix his tackling woes he will have a tough time at the next level. If he can, I see him as a top free safety in the league. Prediction: Mid-Round 1. Team Fits: Dallas Cowboys, Philadelphia Eagles, New England Patriots.
AJ Espenesa has a very high ceiling as a player. He posted 16.5 TFL and 10.5 sacks in a backup role in 2018 and was selected to the All Big 10 Second Team. He is a leader for the Iowa defense and is seen as a wrecking ball to opposing offensive lineman. Espenesa is a disruptor first and foremost, constantly making his presence felt in the offensive backfield. He has an array of moves such as spin and swim moves that allow him to beat his man and get to the quarterback. He has great bend and gets very low with his shoulders to sneak around opposing offensive tackles. He's quick off the jump and has exceptional power in his frame. He is a nightmare for opposing quarterbacks. PRO COMPARISON: Joey Bosa Projected Draft Position: Early 1st Round
Fulton has all the talent in the world to play at the next level because of his athleticism. His ability to attach to receivers hips and blanket their routes can allow coordinators to put him on an island to cover his man. His size and quickness allow him to matchup with any receiver, he can be trusted no matter who he is lined up against. Teams will fall in love with his capability to run routes for receivers and that he always find himself in position to make a play on the ball. He is a good teammate because he isn't just about himself and will make sure that they all are ready to play before the ball is snapped. He showed that he understands his role and expectations within the defense. His past suspension will be questioned by teams, but if he can prove he is past that and doesn't have any more off-field issues then with a solid season, he has a chance to be the best corner in his class. If he can further his development as a player and as a leader on and off the field, then I wouldn't be surprised if he is the first corner off the board.
Henderson has all the tools to be an effective coverage cornerback at the next level. Teams will love his fluidity in coverage because of how smooth he can move on the field and his ability to attach to their hips to run stride for stride with them. He is a fighter when he is in coverage and will put up an effort to get the deflection. He can play in man or zone coverage as he can press or lay back to react to the quarterback. Teams will question if he is a good fit for their defense if they want to depend on him in run support. While his explosiveness can make him a weapon in that department, his tackling technique and lack of physicalness hold him back, and he can be a liability because he tends to miss opportunities to get the tackle. If he can show he is willing to do the dirty work and show some development as a player then he can work his way into the first round. After seeing a similar player like Greedy Williams fall in 2019 because of his lack of physicality, I could see that happening to Henderson.
K'Lavon Chaisson looks the part of a complete football player. Film is impressive and shows a smart and active player on the field. Chaisson has no problem being a pass rusher but at time dropping back in coverage as well. Chaisson will be a vital part to LSU's defense this upcoming season and will need a big year to rise up draft boards. Expect Chaisson to rise to the challenge and put on an absolute show this upcoming season. Chaisson should be a early round pick in the upcoming draft. His skill set will transition to the next level easily. PRO COMPARISON: Melvin Ingram DRAFT POSITION: Late 1st Round-Early 2nd Round.
Oregon's star QB was originally set to be the top QB taken in the 2019 draft, but decided to stay for one more year at school. Herbert's athletic ability is off the charts and his ceiling is sky-high, but he needs to work on more of the nuances of playing quarterback. His decision making and vision are the two most important aspects of his game that Herbert needs to improve in his senior year at Oregon. Much of that will be up to Oregon's system, and I'm not sure how much room Herbert will have to improve if he's stuck in the same college spread, quick-hit offense that he was in last year. Herbert is definitely intelligent enough to pick up the nuances of playing QB, so it will be exciting to see what he can do in 2020. But even now, before the season begins, Hebert is a player that scouts love. Pro Comparison: Marcus Mariota. Team Fits: Las Vegas Raiders, Cincinnati Bengals, Tampa Bay Buccaneers. Prediction: Top 10
Coming into the 2019 college football season, Jordan Love has the scouting world abuzz with his rare athleticism and his passing skills. He is squarely in the conversation to be one of the first QB taken in the 2020 draft, and with more refinement on his weaknesses I would say that he may have one of the highest ceilings amongst the QBs in the draft class. His athleticism, arm talent, and off script playmaking ability evoke some similarities to Patrick Mahomes, but he is in need of a lot more refinement to get even close to a comparison like that. Teams such as the Colts, Chargers, Dolphins, Panthers, Saints, Patriots, and Buccaneers should have keen interest in him on draft day. He should be selected within the first 15 picks of the first round with his upside.
McKinney's calling card is his athleticism, instincts, and versatility. He was deployed from a wide variety of positions during his time at Alabama, and excelled in all of them. He times his blitzs up well, his ability to recognize route concepts and play schematics allow him to flow and fit to the play in what seems like an instant. He has soft hands and will come down with his share of turnovers, and is a pest when it comes time to try and compete at the apex catch point. He will be a highly sought out prospect in this year's class and is in the conversation to be the first safety selected and should easily come off the board in the first round due to his ability to be a quality contributor both in the run and pass departments. Teams such as the Eagles, Cowboys, Browns, Saints, Patriots, Panthers, and Lions should keep a close eye on his draft stock. His playing style reminds me of Micah Hyde.
Jonathan Taylor will forever be remembered as one of the most productive college running backs we have ever seen. He finished his career sixth all-time in the FBS and second in the Big Ten with 6,174 rushing yards. Taylor immediately became a major piece of the Badgers' offense as a freshman, playing in all 14 games and starting in 13. He finished his freshman campaign with 299 carries for 1,977 yards and 13 touchdowns. This earned him First Team All-Big Ten and Freshman All-American honors. He was also named Big Ten Freshman of the Year and was a Doak Walker Award finalist. As a sophomore, Taylor started in all 13 games and carried the ball 307 times. leading the nation with 2,194 yards along with 16 touchdowns. These numbers helped him win the Doak Walker Award while earning First Team All-American and All-Big Ten honors. In his third and final season as a Badger, Taylor continued his dominance, running the ball 320 times for 2,003 yards. He also led the nation in total touchdowns with 26 (21 rushing, 5 receiving). His performance helped him win the Doak Walker Award for the second consecutive year along with First Team All-American and All-Big Ten honors. While there may be other running backs who stand out as more athletic or "shifty", Taylor would still be no lower than my top three running backs in this class. While his high carry volume could be a red flag for some teams, his production and skill set cannot be overlooked. I believe that Taylor will prove that he can handle the workload and be a true feature back for whichever team decides to draft him. I see Taylor being a solid starter and potential Pro Bowl caliber running back in the league for many years to come. Round Projection: Late 1st-Mid 2nd; Team Fit: Kansas City Chiefs, Miami Dolphins, Tampa Bay Buccaneers; NFL Comparison: Nick Chubb
Even though Murray has the potential to play at the next level he still has a lot of work to do as a player if he wants to make it in the NFL. His athleticism will only get him so far if he doesn't work on the small things. He can offer a team someone who will work his way to the ball and can help in run support. His play recognition will need to improve otherwise he could end up being responsible for chunk plays happening against the defense. Teams will love his size. His long arms allow him to be a problem for offenses because of his reach to get his hands on ball carriers and to get in the way of passing lanes. He is a productive player so he has proven he understands his role but it's the small things that show up throughout games at times that can question his decision making. He does do a great job at his length to his advantage when defending the pass by getting his hands on the ball, I would like to see him make more of those turnovers. He has a chance to propel himself with some improvement as an athlete and player.
Higgins was difficult to grade, because there are big inconsistencies in his game. Some things he is at an elite level and others he is below average. Right now he grades out as a 2nd round prospect, but I expect a really good showing at the combine and that will definitely raise him well into the first. He has a very similar to a Chargers Mike Williams or Raiders Tyrell Williams. He would be a great fit a team like New England, or a young team like Arizona .
Queen is going to be an every-down linebacker in the NFL due to his versatile skill-set. Improving his tackling would go a long way in his career development, as he already excels playing in space. I see Queen as an instant starter that can fit in any defensive scheme. Prediction: Mid-1st round. Team Fits: Jacksonville Jaguars, Oakland Raiders, Miami Dolphins.
Gross-Matos is a raw edge prospect with all the traits, tools, and measurables needed to find success at the next level. His lack of polished technique only equates to a massive amount of untapped potential. The Penn State product is likely to go towards the back end of the first round. With already possessing the ability to play the run, if Yetur is able to develop a set of pass rushing moves he could easily be seen as a three down 4-3 DE with Pro Bowl potential.
J.K. Dobbins will be a feature back at the next level. He has exceptional vision in the hole with impressive change of direction ability in order to flip his hips to sneak through small crevasses. He displays excellent explosion through holes with the talent to keep his speed without gearing down following a cut into the second or third level. He doesn't possess game breaking speed, and he will often be to willing to follow his blocks rather than create for himself leaving yards on the table when holes open. Dobbins has great hands and is a consistent presence as pass protector winning 1-1 battles with free blitzers. The Ohio State runner has a high floor in year 1. He is athletically and mentally ready for the next level.
Swift is a highly runner in zone concepts with the speed and burst to break big yardage plays in the perimeter. He possesses a unique belnd of speed, physicality and body control. Swift will maximize his space and utilize angles in the second level with his burts and quick acceleration. He is a trustworthy pass catcher with a developed route tree who will continue to grow and excel in pass catching situations. Between the tackles, Swift is a strong and physical runner who will adhere to the play deign minimizing his playmaking ability. Swift will excel in a spread offense utilizing a zone scheme. He will be a playmaking 3-down back at the next level.
Shenault is a delight to watch on tape. He was the go-to target during his time at Boulder, and he flashed the dynamic playmaking ability that leaves talent evaluators salivating at the next level. He does have some durability issues that will need montiored throughout the draft process, but if everything checks out he should go off the board in the first two rounds. His playing style reminds me of DeAndre Hopkins. Teams such as the Colts, Jaguars, Falcons, Eagles, Steelers, and Panthers should keep a close eye on where his draft stock is at.
Jefferson has shown ability to produce throughout his college career with a breakout age of 19 in his second season. But his production took a huge leap in his 2019 season racking up 132 targets and 111 receptions coming out with a catch percentage of 84%. He was also 3rd in the country in receiving yards with 1540. This wide receiver draft class looks to be crowded but I feel Jefferson has shown himself to be a top talent in the class. He has the versatility I love to see and just knows how to get open even if his routes arent the most savvy. Along with getting open he is a weapon once the ball is in his hands. Those three factors are towards the top of traits I like to see with the wide receiver position which proves his value. I see Jefferson as a late 1st or early 2nd rounder and someone who still has room to develop into a number 1 wide receiver on a team, especially if he is able to fully fill out his frame. I see Jefferson fitting best with any team that is needy at wide receiver but especially with teams like Philadelphia, Arizona, Baltimore, or New Orleans. He looks to be able to produce right off the bat his rookie year.
Press cover corner who isn't afraid to get up into the face of his assignment off the LOS. He has an good jam off the ball, and can redirect WR. He has the hip fluidity and foot quickness to mirror and match most WRs without giving up too much separation. Where he sets himself apart is his ability to disrupt at the catch point due to his length and aggressiveness to make a play on the ball. Is somewhat on the lean side, and will need to continually add some quality bulk to be able to combat against NFL quality WRs. Teams such as the Dolphins, Panthers, Seahawks, Chiefs, Eagles, and Vikings should show interest in him. His draft stock is in the late 1st/ early 2nd round range, and his playing style reminds me of Donte Jackson.
Likely an early day 2 pick, Baun is a versatile defender that teams can use as both an edge pass rusher and a 4-3 OLB. Utilizing him on the 2nd level would maximize his ability to pursue and crash downfield in the running game and his knack for getting in passing lanes. His motor and arsenal of pass rush moves makes him a dangerous pass rusher in the right situations. Prediction: Early 2nd round. Team Fits: New England Patriots, New York Giants, Atlanta Falcons.
Diggs is a solid cornerback who has a skill set that will allow him to compete at the next level. He has the size and length to matchup with bigger receivers, plus he has enough speed to run attach to the majority of reciever's hips. He will need to prove that he can be at least the same player he was before his season-ending injury last year, but as long as he is, then he has the ability to be a CB2 on a NFL team. He also needs to show some development and be more of a playmaker. I would like to see him grab more interceptions and get his hands on balls more often in 2019. If he can do that plus work on some small areas of his game then he could be in contention to go in the first round. While his athleticism is eye-popping, he showed that he can matchup with athletes like D.K. Metcalf and can lineup across the opposing team's best receiver. It does help that he will be prepared coming into the NFL because of Nick Saban's coaching and could be a cog in a cornerback group that knows what it takes to get the job done.
Jacob Eason's college career has been one heck of a roller coaster ride. A 5-star recruit out of highschool, Eason commits to Georgia and had a strong freshman season. Eason threw for 2400 yards with 16 touchdowns to 8 interceptions with a 55% completion percentage. Things were looking up for his sophomore season until he sustained an injury in the first game and Jake Fromm substituted in for him. Jacob Eason never got his starting gig back after going down with the injury, not because he didn't have the talent but because Fromm was performing so well. Eason has enough potential to possibly have the highest ceiling in the upcoming QB class. He has the arm talent that quarterbacks dream about. He can make throws to every spot on the field and is much more likely to overthrow you than underthrow you. The thing that is most interesting about evaluating Eason as a prospect is that he didn't play a meaningful snap from the 2016-2017 season at Georgia to the 2019-2020 season at Washington. Eason transferred to Washington after losing his starting job at Georgia and had to sit out a season due to NCAA rules. This season is extremely crucial for Eason to remind scouts why he was so highly coveted out of high school and show how talented he is once again. As mentioned before, Eason could have the highest ceiling in this class and if he can put it all together this season, he will be an early draft pick. PRO COMPARISON: Joe Flacco DRAFT POSITION: Mid 1st-Mid 2nd Round
Edwards-Helaire was a cornerstone of an LSU offense that will go down as one of the best ever in NCAA College football history. His prowess as an explosive runner and pass catching threat will immediatley endear him to a number of talent evaluators. His playing style reminds me of Frank Gore when he was coming out of Miami (Fl.). I see him coming off the board as a late first round/ early second round pick, anywhere after there and he wll be one of the steals of this draft. Teams such as the Eagles, Steelers, Chiefs, Rams, Colts, and Patriots are just a few of the teams who should be keeping a keen eye on his draft stock.
Overall I think you will be getting an instant impact player and depending on situation, he could be a leader very early on. He is very comparable to an Eric Weddle, because he isn't going to wow you just by looking at him or his measurables, but is a real problem for offenses come game time. He will probably end up being drafted in the mid-early 2nd round, would be a perfect for teams like Baltimore or San Francisco at end of the 1st round. 2019 Unanimous All-American, First Team All Big 10, Big 10 Defensive Back of the Year, Bronko Nagurski Award finalist. 2018-19 Academic All-American.
Barch has the prototypical size to play tackle at the NFL level, but his skill set is best suited to play guard. He is a very physical and has strong hands, he is also a smart lineman. You can really see in his film that he knows what his best attributes are and he uses them to his advantage. The obvious person to compare him to is Bucs G Ali Marpet, but Barch is not as polished as Marpet coming into the league. However if Barch performs as well as Marpet did at the combine, he still has a chance to be a 2nd-3rd round pick.
Gallimore is a rare and athletic interior defensive lineman who will land with a team and immedietely step in and make plays. For his size, its hard to find a player as large as Gallimore who has the ability to be a 3 down lineman due to his pass rushing ability. Should be a late day 1, early 2nd pick.