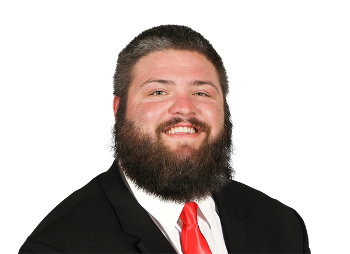 2018 leg fracture (No surgery required)
Ben Cleveland's a perfectly built interior IOL. He's massive but wears his weight very well and is considerably athletic for a 340 pounder. Active hands, accurate placement, and a strong punch help him dictate distant, as well as disrupt rushers momentum. Savvy pass blocking technique with several veteran like moves to his game. Has a tremendous understanding of the position and his assignments. Anchors well with decent knee bend and serious lower body strength. Ben a tenacious down blocker and creates decent movement off the L.O.S.
Stiff lower body mechanics with heavy feet, Cleveland isn't the greatest in space. His quickset is subpar, he struggles to reach block, and has very little recovery. Lateral agility and change of direction are his weakest attributes and will be exploited at the next level by more explosive trench athletes. Average balance and lacks the ability to consistently finish blocks.
An SEC right guard who's faced his fair share of 1st round D-line prospects and held his own every time. Ben Cleveland is a semi polished product who could bring a ton of value to any interior offensive line who runs a man or gap scheme. He's agile for his size but may struggle if asked to block on the move at the next level. Ben is likely to be taken late day two to early day three with a path to early contribution. The RG's talents and physical attributes should equal a long journeyman type career in the NFL.
| | | | | Ability to Combat Inside Move | |
| --- | --- | --- | --- | --- | --- |
| | | | | | |