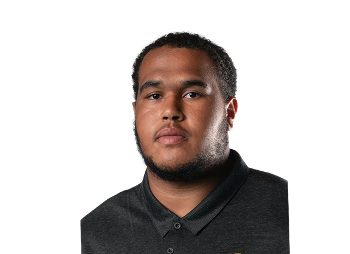 Borom has good awareness for someone who has limited football experience. He is a very large prospect but moves fairly well for his size and has great fludity when getting engaged at the second level. Surprisingly for a propsect of his size, his had a good pad level when going up against smaller defenders. Has quick feet to fit nicely into a run scheme as a position run blocker. He is an athletic pass protector and holds a strong base that allows him to stay strong with interior defenders. Borom can excel on the outside given his size and athleticism in a pass heavy offensive scheme.
When Borom slacks on his technique, he becomes a weak inside otector and is not helpful on the interior. As much as his size is an advantage, elite pass rushers will be too fast for Borom to keep up with. Still working on his hands when getting in engaged with defenders. He needs to work on leverage when fighting against bigger and better defenders and work on cocnsistency with technique. Speed rushers will be a problem.
Borom has the potential to be a solid offensive lineman at the next level but needs to work a lot on his technique before he becomes useful on a 53-man roster. His elite size will be attractive to NFL scouts but he needs to work on his technique if he wants to get looks from NFL squads. Borom was very successful at Missouri but elite defenders will pose a problem to him. He is a smart prospect and may just need more development before being an attractive prospect. Borom will more than likely be undrafted but a team could take a shot on him late on day three. His biggest strenght is going to be his size and strong hands, somethign that simply can't be taught. He possess all the intangibles to be a solid player at the next level but will need substantial development to get there.
| | | | | Ability to Combat Inside Move | |
| --- | --- | --- | --- | --- | --- |
| | | | | | |