WHERE SCOUTING MEETS ANALYTICS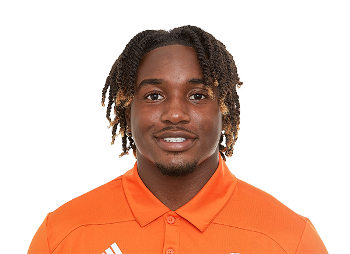 McCormick is runs like a water bug. He is a tough runner, who runs behind his pads. He has the ability to cut and change directions on a dime. He has great contact balance and often is breaks tackles because of it. He has patience in the backfield to allow plays to develop in front of him. He is a natural pass catcher, who has the ability to go get the football and make a play in space. Film does not lie... he is a high motor guy that was super productive.
"McCormick's biggest red flag is his size. At 5'9"" 205 he lacks the ideal frame to be an every down back in the NFL. He carried the rock over 600 times in college, so wear and tear is a concern. He lacks home run hitting speed and will struggle to create separation at the NFL level. He struggles pass protector. He will have to build on his frame and sharpen his technique in pass pro.
vs Western Kentucky (2021), vs North Texas (2021), vs Texas St. (2020)
McCormick was an ultra productive back at UTSA. He runs hard through contact and has a show stopping jump cut. He is as tough as they come, but his lack speed limits his home run hitting ability. He needs a hole to bust big plays because of his lack of explosion. His small frame and large workload at UTSA is a major concern for his longevity. Due to this McCormick will be limited to a 3rd down back/running back by committee role. However, with his agility and ability to catch the ball out of the backfield he has the potential to be an effective rotational piece at the next level. Look for a team to take him late day 3.
McCormick is a gifted athlete. He has great lateral agility and elusiveness to make defenders miss all over the field at all levels. In particular he has a nasty jump cut that leaves tacklers in the dirt. He runs like a ping pong ball and is constantly bouncing off defenders. He lacks the top end speed and explosion to create seperation at the next level.
He has elite cutting ability with his low center of gravity. He has decent field vision, which helped exploit holes at UTSA. He has good leg drive and pad level in the hole.
He was not used much as a receiver but when he was he flashed soft hands and the ability to make plays in space. He lacks the speed to create seperation at the top of his routes. He will need to work on his route tree to be a successful 3rd down back in the NFL.
He was not asked to lead bullock much, but his small frame prevents him from being effective as a blocker in space. He throws his weight around the best he can and showed promise as a pass blocker. His effort and willingness to put his body on the line with his frame is outstanding.
He runs hard and plays tough as nails...he does not let his undersized frame hold him back. He was super productive at UTSA, garnering numerous awards and rushing for nearly 4,000 yards. He is a high motor guy who will do anything it takes to pick up a yard.
He flashed good patience and instincts in regards to waiting for holes to open and finding them quickly. Hisa size limits his versatility at the next level.